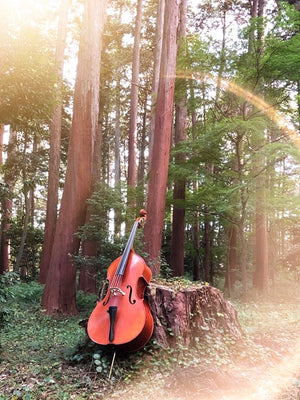 NEWS
Holiday notice
Saturdays and Sundays
August 12 thru August 16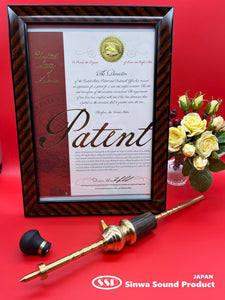 Extreme gem created with craftsmanship and ideas
U.S. Patent No. US 11,138,957 B2
日本の特許取得に続き、アメリカ合衆国でもクリックシステムの特許を取得致しました。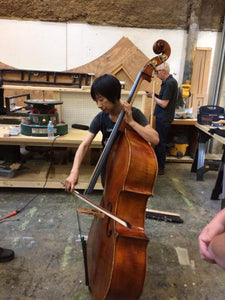 Dealers in the U.S.
YUMI FUJIMOTO
Luthier in Chicago, USA

Yumi Fujimoto graduated from Chicago School of Violin Making in 2008, and also studied at Bass luthier workshop of Oberin college course. She has worked for some fine violin shops in Chicago to gain more experience in the restoration and repair of violin family instrument. Yumi joined A440 violin shop as a bass specialist, and has met many professional bassist who wants to improve the sound quality of their basses.

Here is Yumi's comment about the endpin by Shinwa Sound Product.

" Recently I had several customers who tried the endpin on their basses, and immediately noticed the outstanding effect of this product. This amazing endpin makes the sound quality richer, deeper and more projected.
I would like to name this end pin ' Magic Wand' because it works some magic on the instrument".
Opus One, LLC & A440 in Chicago, USA
mail address: 55opusone@gmail.com ←click here
phone: 1-847-322-8887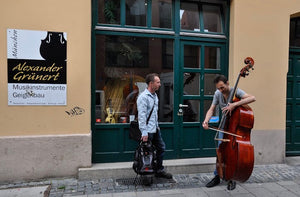 DEALERS IN THE Germany
GRÜNERT Musikinstrumente
Ihr Spezialist für Streichinstrumente (speziell Kontrabass)
Reparaturen und Klangverbesserungen
GRÜNERT Musikinstrumente
Holzapfelstrasse 4
80339 München
Tel. +49 (89) 500 59 454
Fax +49 (89) 500 59 455
Thomas@Gruenert.eu
We encourage you to try for yourself the new dimension of acoustics and response that this solution offers.
SSP (Sinwa Sound Product) can confidently attest that we are equipped to offer the finest products that enhance the timbre of your instrument while greatly aiding ease of use.
SSP's parent company is Shinwa Seikou, a third-generation Japanese precision components manufacturer. The company has supported the advanced Japanese manufacturing industry for 80+ years. Today, we produce precision components critical to human life and provide a stable supply to our customers.
Leveraging this expertise in craftsmanship and engineering, we are now poised to offer a new socket and endpin solution for the cello and double bass. It is our fervent hope that this helps performers everywhere achieve a better sound.
We developed multiple prototypes and fully tested these products at our in-house studio, and worked with pro musicians and instructors, acoustic specialists, and specialty double bass vendors to carefully research and develop components that will truly meet our customers' expectations.
We can confidently state that this is the only socket and endpin solution of its kind that offers such thoroughgoing quality -- offering truly the finest in sound.
More information on the manufacturer's website
↓↓↓
SSP Official website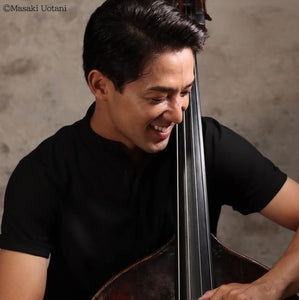 Yamato Moritake (Vienna Radio Symphony Orchestra)
"Steel Endpin Socket"
"Brass Endpin 360"
Dear SSP
I received the product and was able to attach it immediately.
From the moment it was attached, I could clearly feel the difference in sound, and after a few days, I now feel that the sound of the instrument is even better. As a Japanese person myself, I am very proud of how carefully the product has been made and its quality. The instrument stores and music contacts in Vienna are also impressed, and it seems that the instrument stores themselves have decided to place orders.
I think it will become the standard in Vienna from now on.
Looking at the price alone, I feel that it is not so cheap, but considering its high quality, usability, change in tone, and the number of years it can be used, I think it's a product with very good cost performance.
Thanks to you, performing has become fun. Thank you for your wonderful work.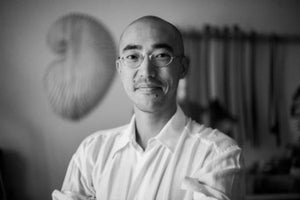 Tetsu Suzuki
About SSP Endpins and Sockets

My opinion as a musical instrument maker and repair person.

In short, I think this is a wonderful product.
There are many types of contrabass and cello sockets and endpins made by other manufacturers, but none of them can come close to SSP's level of precision.
The operability and usability of the click system and slip-on system are features that no other manufacturer can match, and the usability is significantly improved.

Most importantly, the sound, which is the most important for the musical instrument, is dramatically improved.

I was shocked when I first tried it.
It is the same for professional musicials and everyone was equally surprised and wondering "why, just with this? " and top-class musicians decide to purchase it immediately.
Not only are people delighted that the sound improved but, everyone asks why?

and says "it's fun to play instruments" with this.

This is tells the story of how amazing this product is.
Of course, I am myself using all SSP products for all of the instruments that I make. There really is no other choice.

Professional users
Orchestra
Munchner Philharmoniker
Malaysian Philharmonic Orchestra
Sendai Philharmonic Orchestra

Bassist
Esko Laine
(Berliner Philharmoniker)
Naohisa Hurusawa
(Malaysian Philharmonic Orchestra)
Hiroshi Ikematsu
(Tokyo Metropolitan Symphony Orchestra)
Seiya Yoshida
(Sapporo Symphony Orchestra)
Shunsuke Yamada
(Osaka Philharmonic Orchestra)
Reo Watanabe
(former New Japan Philharmonic)
Hiroyuki Ishikawa
(Yomiuri Nippon Symphony Orchestra)
Masanori Ichikawa
(NHK Symphony Orchestra)
Moritake Yamato
(Vienna Radio Symphony Orchestra)
Daiki Yasukagawa
(Jazz bassist)
Hiroyuki Minowa
(Jazz bassist)
Satoshi Nishikawa
(Jazz bassist)
Osamu Mihara
(Jazz bassist)
Junius Paul
(Jazz bassist)

Cellist
Hiroshi Kondo
(Osaka Philharmonic Orchestra)
Ichiro Hasebe
(Tokyo Metropolitan Symphony Orchestra)
Saori Shimizu
(Tokyo Metropolitan Symphony Orchestra)
Yoshito Omiya

String instrument maker
Tetsu Suzuki